Overcome Your Organization's Greatest Culture Challenges
Get the support and training needed to thrive in growth, change, and crises with a future-fit, values-aligned and resilient company culture.
A call to transform your cultural health
We are experiencing an epidemic of unhealthy culture in the workplace. And the ways companies typically deal with it aren't working. In this Nordic Business Forum talk, Heart Management's co-founder introduces a much more effective way to transform your cultural health.
Overcome culture challenges
Culture in change
• Lack of clarity and alignment around values
• Patterns of hindering or toxic behavior
• Lack of psychological safety & speaking up
Culture in growth
• Lack of cohesiveness and integrated culture
• Us vs. Them behavior and lack of collaboration
• Need to audit company culture in an M&A process
Culture in crisis
• A crisis of trust due to leadership failure, corporate misconduct, or collective trauma
• Struggle to adapt and move ahead in uncertain market conditions
• A culture of silence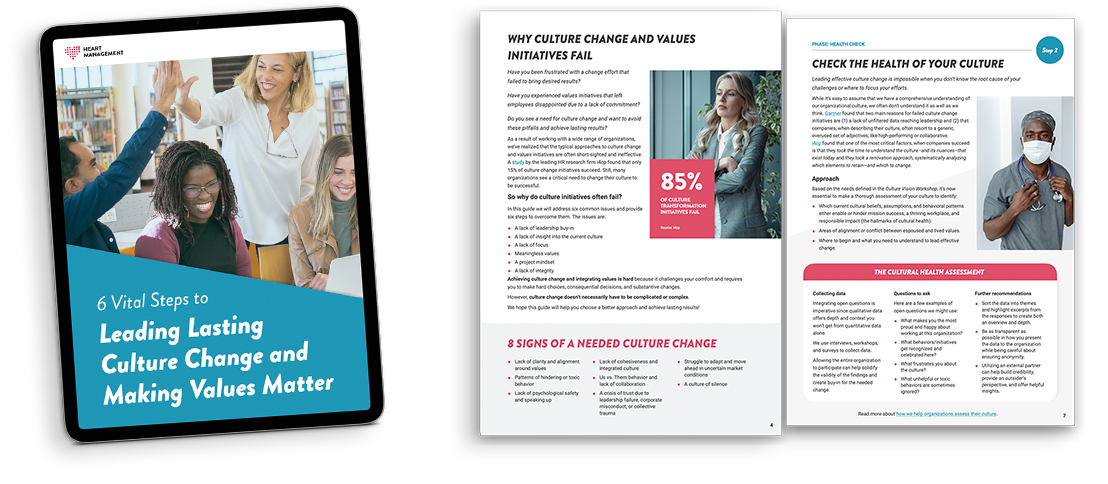 Want to Lead a Successful Corporate Culture Change?
This guide gives you six vital steps to leading lasting change and making your values matter!
The Leading Transformational Change Podcast
Listen and learn from researchers, experts and business leaders in our top-rated podcast.
How we support you
Culture journey strategic support
Let us partner with you to help you overcome culture challenges, integrate values and sustain a remarkably healthy culture.
The culture course
Learn how to overcome culture challenges, integrate values and build a healthier culture through our top rated course for HR, Ethics, Senior Leaders and Consultants.
Cultural health assessment
Get an in-depth understanding of your culture and leadership, to know what to keep and what needs to change.
Lead with values
Equip your leaders with skills and habits to lead with values, make better decisions and contribute to a healthy culture.
Workshops & keynotes
Immersive and practical workshops, digitally or onsite, to inspire and align your leadership and team around values and cultural health.
Some of our amazing clients






Go from ineffective culture projects to healthy habits that sustain a thriving culture
Just like with one's physical health, an enduring transformation to a healthier culture isn't achieved through individual events or short-term projects but by starting to regularly do something different and new.
We help you integrate the healthy habits that will make your organizational culture stronger, healthier and more resilient.